Mold is a nightmare for both households and business owners. Especially in South Florida, since high humidity levels can contribute to mold growth in your home. Mold not only damages houses and buildings, but it is also a significant health risk. When mold grows in your home or building, it is typically a clue that another problem is causing it.
Mold is never desirable, whether the result of water damage or another reason. If you believe you have a mold problem, act as quickly as possible. Many individuals use a professional mold remediation service to remove the mold and restore their property. However, there are several things you should know before choosing mold remediation services.
Mold removal can be a difficult task. Choosing a reliable and competent mold remediation service is important to ensure the task is done appropriately. Consider the following factors while choosing a service:
Offer free estimates
To make an informed selection, you must first evaluate your property or mold problem. Therefore, an evaluation with a thorough estimate is beneficial. With an estimate, you can understand the magnitude of your mold problem and proceed most suitably.
Proper insurance and qualifications
First, never hire a mold remediation service unless they are qualified and insured. Your chosen company should have the necessary licenses, certificates, credentials, and insurance as needed by your local authorities. You can be held liable for any injuries that occur while the hires are removing mold from your home or building if you do not have sufficient insurance. Therefore, before hiring a business and allowing them into your home or building, ensure they meet these standards.
They should always have their license number located somewhere on their website. Here is our example: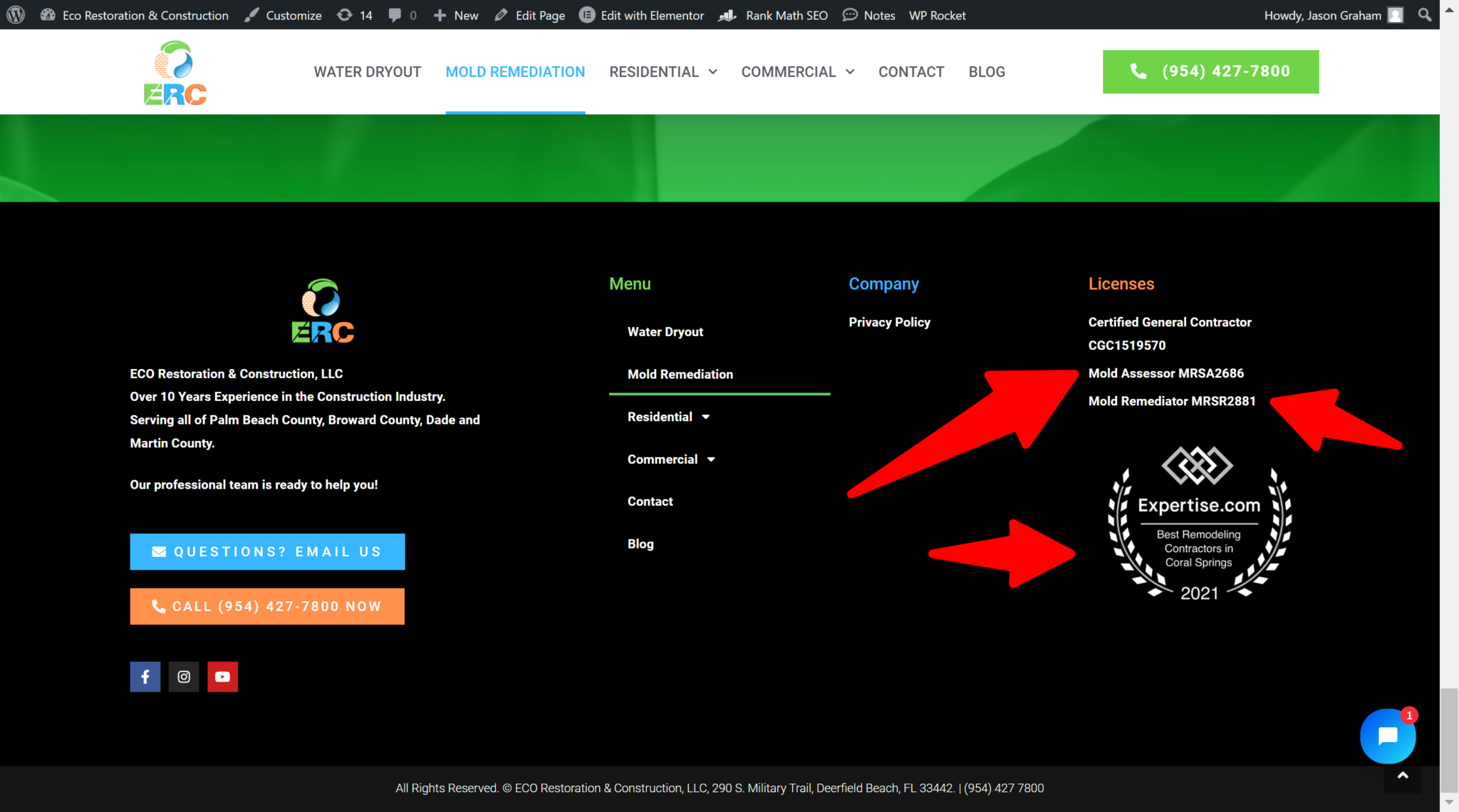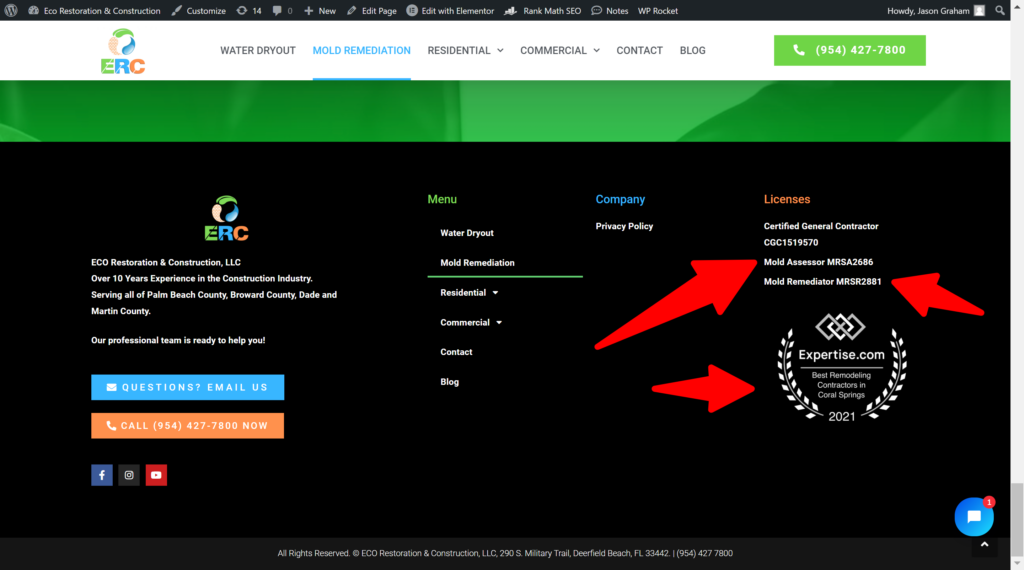 Reviews and business reputation
Look into your business reputation and reviews when you've identified a company with all its licenses and other requirements. Company reviews are one of the best methods to determine the quality of work and customer service a company provides.
You can always conduct research and seek reviews. You can also check with the Better Business Bureau to determine whether the company has any delinquencies or complaints against it.
Experience level
The last thing you want is to hire someone with mold removal experience. However, it can be a complex problem requiring the proper equipment and skills.
A company that has been in business for several years is likelier to have the credentials, a good number of reviews, and multiple references.
The greater their experience, the better. This is because they should be better equipped to cope with any issue that may arise throughout the remediation.
Waste disposal
You should discard all mold-affected building materials and contents immediately after removal. They must never be kept on the premises for any purpose. The disposal path should be as short as feasible to reduce the possibility of a break or leak. All articles must be double-bagged to prevent cross-contamination.
Technician's protective gear
All mold removal specialists should wear shoe coverings, safety glasses, and hazmat suits and be insured to prevent mold from spreading to other sections of the home or building.
How long does mold removal take?
The time to eliminate mold depends on the size of the contaminated area and how long you have had a moisture problem that has allowed these deadly germs to proliferate. Small projects include cleaning up after floods or eliminating black stains beneath cabinets where there was once standing water owing to leaks.
However, depending on the type of surface that requires care, such as wood floors vs. concrete floors, which require more tedious scraping procedures before being fit for use in any home or business establishment, this process might take several days.
Hiring a mold specialist does not have to be as difficult as you think. There are several good ones available. They will not push for unnecessary tests, will charge fair fees, will be able to explain properly what work will be done, will use professional techniques and equipment, and will have a lot of expertise.
How expensive should mold removal be?
There is no need to take out an entire house because of a small amount of mold. Instead, you can keep the cost down by concentrating on the region where the mold is evident.
For example, mold on drywall in one room area has to be removed and rebuilt in that corner.
You should clean the rest of the room (and maybe adjacent rooms) but only remove and replace damaged drywall.
Mold removal costs vary depending on the size of the project. However, it is common for them to exceed $1000. However, some mold specialists misrepresent the amount of work to be done, raising the price. If you believe a stated price is excessive, we recommend getting other quotations to compare.
Frequently asked questions
Can I remove mold on my own?
Several cures and combinations allow you to perform mold removal independently. On the other hand, some cleansers remove the visible signs of a mold infestation, leaving the roots (and the problem) intact.
Mold remediation in areas more significant than 10 square feet is best left to experts. However, you can try to handle the mold yourself if it is just on a hard surface or in a small area. For example, cleaning a fiberglass shower is an easy DIY project, but large areas on a wall, floor, or ceiling are a different story.
Conclusion
I hope this article has revealed that removing mold is not difficult. Even so, starting with a mold expert is a good idea. Mold remediation isn't as complicated as it looks, but it might be confusing. As a result, we like to assist our readers in understanding the process and how it works so they can make an informed decision when hiring a mold remediation expert in South Florida.
With the information provided above, you now have a better idea of approaching the mold remediation process to ensure that the hazardous mold in your home is removed. Ensure to assess the situation and understand the extent of the damage before hiring a professional company to remove and remediate the mold properly, so you don't have to deal with the same problem again.